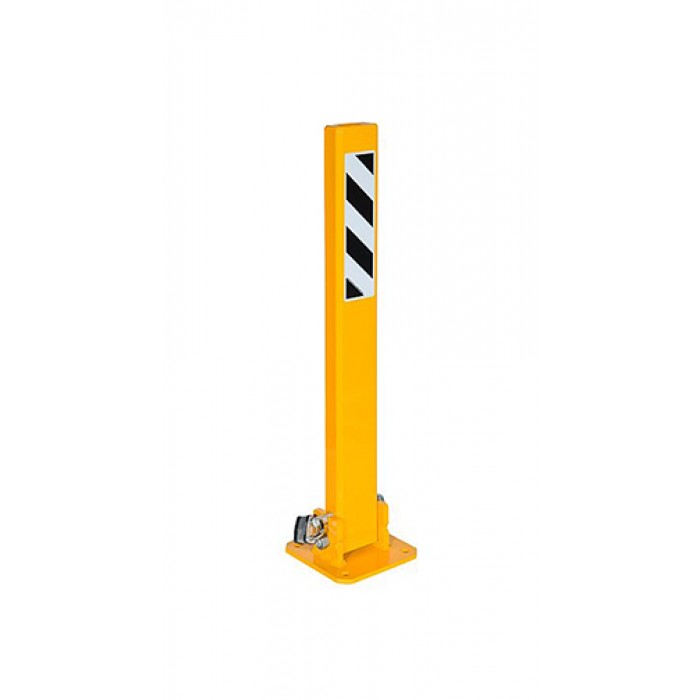 Specifications
Bollard Height
36"
These 36″ two-way collapsible traffic bollards can help address several common traffic control issues in a variety of applications. There are many areas where traffic needs to be kept out as pedestrians are likely present. Trail access points, fire lane access roads and utility access roads that occur in public parks, forest preserves and schools are just a few examples. While there is typically a need to keep traffic out of these areas for the majority of the time, access is required from time to time. Maintenance and utility crews as well as emergency personnel need to have a reliable way to access these areas.
One solution to this are retractable safety barriers that allows access with the simple removal of a padlock and lock pin, allowing the bollard to be lowered and straddled by an authorized vehicle. When in the upright position the collapsible post offers a visual deterrent and warning to vehicles to keep out of an area, helping to protect unknowing pedestrians. Further, it is very visible to help ensure pedestrians don't run into it. In instances where multiple agencies will need access to a given area, the 36″ two-way collapsible traffic bollard can be modified to utilize a lock pin that accommodates multiple users.
Collapsible bollard units shouldn't be used where a flush surface is required during removal. A flush surface may be required when the retractable safety barriers will be in the down position for extended periods of time as it can become a trip hazard. In areas that will be snow plowed, a removable bollard with a flush surface would be preferred as the collapsible base can be damaged or destroyed by a plow unknowingly striking it.
The Bollard Warehouse 2436 offers a relatively light bollard making accessing an area by authorized personnel easier, while at the same time offering a strong visual deterrent when in place. This folding parking bollard is manufactured and finished in the US.
Concave post top for easy grip when raising and lowering bollard
Collapses in two directions for ultimate functionality
Manufactured from high quality USA steel
Available in 36″ height ONLY
Manufactured from ¼"steel tube in 2″ x 4″ x 36″
4″ clearance height in down position
Reflective hazard labels included
3/4″ x 6″ hot dipped galvanized hinge pin and hot dipped galvanized lock pin standard with product
Base plate accepts 3/4″ anchors
Prices include delivery to any location in the contiguous U.S.